India is full of wonders, where we can witness magnificent forts, mesmerizing Palaces, blissful temples, and lots of Miracles too. In this article, we are going to talk about one of those amazing architectural wonders that are called stepwell.
Stepwells are man-made water storage wells, built with steps to reach the water. The Northern and the western regions of India have always observed water shortage because of climatic and geographical conditions. Hence, step-wells can be found in these regions that majorly include Rajasthan and Gujarat.  The earliest stepwells were very simple in terms of construction. However, with time, more attention was paid to their architecture and beauty. Some of the stepwells are so amazing that they are listed in UNESCO's World Heritage Sites.
After witnessing, these wonderful stepwells will definitely force you to think about the hard work and creativity used for such masterpieces. Even I was astonished by this; How can one truly mold such intricate workmanship and artistic thinking into a structure? These are really architectural wonders. But unfortunately, these are getting blurred in history.
To give you a deeper insight into these step wells, here is my list of the most beautiful stepwells in India. Are you ready for a time-travel experience!!!
---
1. Chand Baori (Rajasthan)

Chand baori is the most photographed and most popular baori of India. It is located in Abhaneri village of the Dausa district of Rajasthan. That is why it is also called Abhaneri stepwell. Chand baori was built by Raja Chanda (King Chanda of Nikumbh dynasty of Rajputs) between the 8th and 9th centuries.
If I would say Chaand baori as the face of all the stepwells in India, probably it would not be wrong. Because the architecture of this well is very amazing!!
This square stepwell is 35m wide on each side and has 13 floors. One side has a couple of royal sheds like rooms for the King and Queen. An intricate criss-cross pattern of 3500 steps on the other three sides. Those 3500 steps leading to the huge central tank are aligned with high accuracy and symmetrically.
Apart from those amazing geometrical aspects, this well is around 100 ft deep, which makes it the deepest well in India, and probably the biggest in the world. Chand Baori has also appeared in a scene of Batman: The Dark Knight Rises.
---
2. Rani Ki Vav (Gujarat)
Rani ki Vav (Queen's Stepwell) is a monumental stepwell situated near the banks of the Saraswati river in the town of Patan in Gujarat. It is listed in UNESCO's World Heritage Sites.
It is one of the few surviving monuments from the Chaulukya Kingdom (11th century), which was spread over a large area of Rajasthan and mainly Gujarat.
Rani ki Vav was constructed in 1050 AD, by Rani Udaymati, in the memory of his late husband Bhimdev I (a Chaulukya King). Rani ki Vav is also featured on the rear side of the ₹100 banknotes of Indian currency.
In around the 13th century, Rani ki Vav was filled with silt, due to a flood in the nearby Saraswati river. It was rediscovered and excavated in the 1980s. Later on, it was restored by the Archaeological Survey of India (ASI) in the 1980s. The excavation team found that the wall carvings and idols were in preserved condition. An image of Udayamati was also recovered during the excavation.
Rani ki Vav is divided into 7 levels of quite wide steps, carved with around 500 major sculptures and over 1000 minor sculptures. Those sculptures include religious, mythological, and literary works. A large number of sculptures are portrayed with women in everyday life and activities. Some major carvings are of Lord Vishnu's Dashavatars (Ten forms of Lord Vishnu), Vishkanyas (women possessing snake-like venom), and Apsaras (celestial women). Rani ki Vav is definitely a remarkable stepwell with a great history.
---
3. Adalaj Vav (Gujarat)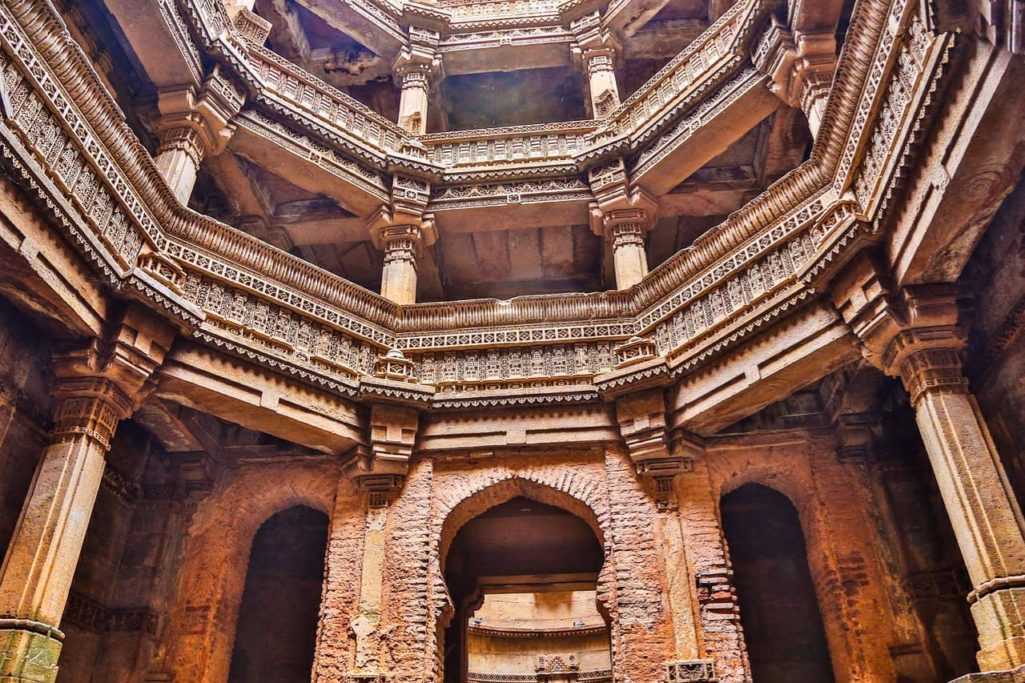 Adalaj Vav is situated in the Adalaj village of Gandhinagar district in Gujarat. It is also known as Rudabai Stepwell. The history of this stepwell mired in misfortune when the Muslims made Ahemdabad as their first Indian Capital. There is a tragic story behind the construction of this masterful creation. In 1498, Rana Veer Singh (A ruler of the Vaghela dynasty of a region called Dandai Desh) started the construction of this stepwell.
During that period, Rana Veer Singh got martyred in a war. His territory was occupied by the invader king Mahmud Begda and the stepwell was left incomplete.
Rana Veer Singh's widow, Rani Roopba (or Roodabai) wanted to perform Sati. However, Mahmud Begda stopped her and asked her to marry him. The Queen agreed to the proposal on one condition that he'd finish the construction of the well.
Later on, in 1499 when the construction of the stepwell was completed, instead of marrying Begda, Rani Roodabai jumped into this same well and committed suicide.
Adalaj Vav is an octagonal (8 sides) stepwell with 5 floors. Each floor has enough space for people to gather. There are a very large number of finely carved pillars. The pillars and walls are ornamented with beautiful carvings related to mythology, women in everyday activities, dancers, and some elephants. The major carvings are Kalp-Vrishka (tree of life) and Ami-Khumbor (pot containing the water of life), both are craved out of a single stone.
---
4. Agrasen Ki Baoli (Delhi)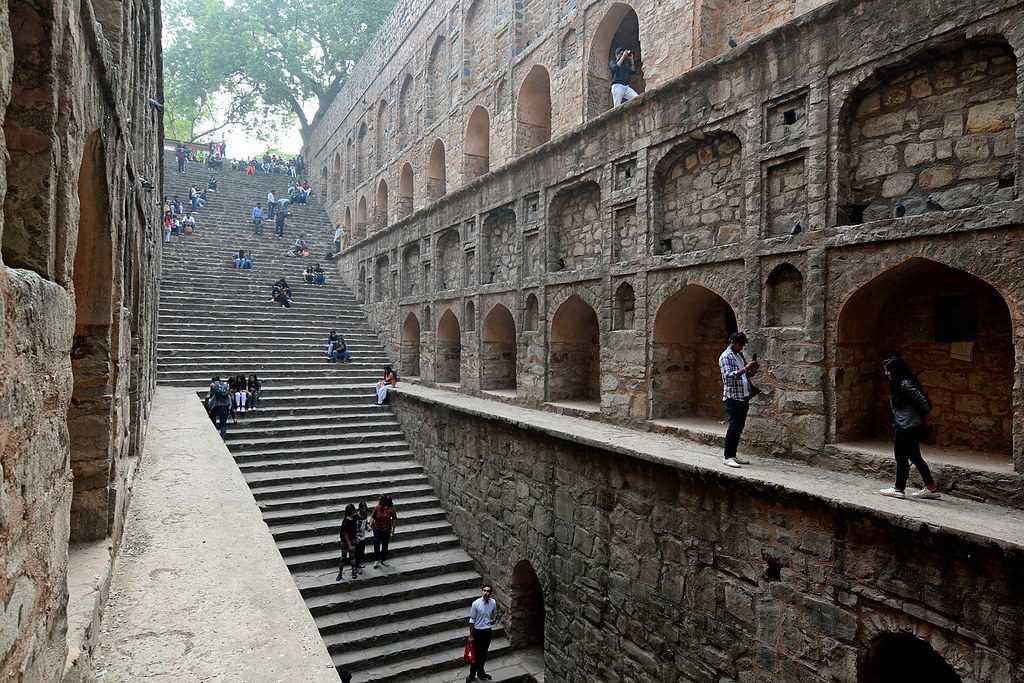 Agrasen ki Baoli is one of the most popular stepwells that is under the protection of the Archaeological Survey of India. It is located on Hailey Road, near Connaught Place in New Delhi, surprisingly it is in the heart of the city.
There is no historical record to tell who built this stepwell. However, it is believed that it was built by legendary king Agrasen. Later on, in the 14th century, the Agarwal community rebuilt this.
Agrasen ki Baoli is 60 m in long and 15m wide with 108 steps to be exact. This beautiful stepwell has 3 levels, and all levels have arched recesses on both sides. At present, the well is dried up, so people can visit the deepest bottom of the structure.
Earlier, Agrasen ki Baoli was said to be haunted. But it got popularity after appearing in the superhit Bollywood movie PK. Nowadays, it is a hangout place and photography spot for teenagers.
---
5. Surya Kund Stepwell (Gujarat)
The Surya Kund is a huge and impressive stepwell. It dwells beside the unique Sun Temple, situated in Modhera of Gujarat. This is one of the two prominent Sun temples in India (The first one is in Konark). This temple is itself so amazing, that even a dedicated blog post would not be enough to explain this in detail.
The Modhera sun temple and the Surya Kund were built on the bank of the river Pushpavati, in 1026 AD by King Bhimdev. This is the same Bhimdev whose widow Rani built the famous Rani ki Vav.
The architecture of the Surya Kund is so mesmerizing that you would like to sit there to relax and forget the stress. Some experts state that it is earthquake resistant. There is no shrine in its main Sanctum sanctorum (Garbhgrah). It was arranged in such a way that the sun shines in the inner sanctum during the equinox. Equinox is a time when the plane of Earth's equator passes through the center of the Sun (occurs twice each year).
The Surya Kund is not excessively deep but pretty wide. It has around 108 miniature shrines carved on the steps of this Kund. Those include 100 small shikharas (spired temples) and shrines. 108 is an auspicious number in the Hindu religion. This shows that this wonderful stepwell was not just for water storage but also had religious significance.
This site is now under the protection of the Archaeological Survey of India. The Surya Kund stepwell is an amazing and masterful creation in architectural aspects.
---
6. Rani Ji Ki Baori (Rajasthan)
Rani Ji ki baori which means Queen's Stepwell. It is the largest and the most popular stepwell among the 50 step wells in Bundi. Yes!! There are around 50+ stepwells in Bundi. It is also called the city of stepwells. This also shows the importance of water storage in Rajasthan at that time.
Rani Ji ki Baori was presumably named because it was constructed in 1699 AD under the order of Rani Nathavati. The credit for the construction of more than 20 such stepwells goes to Rani Nathavati.

The stepwell has a couple of floors and is around 150 feet deep. A grand arched entrance welcomes you with four long pillars, decorated with beautiful intricate carved patterns. Statues of elephants with their mahout (an elephant trainer) on the top of those pillars stand facing each other.
Rani Ji's Baori looks more functional with these strong walls that have kept it standing even after such a long time. It is one of the best places to visit in Bundi.
---
7.
Peralassery Temple Pond, Kannur (Kerala)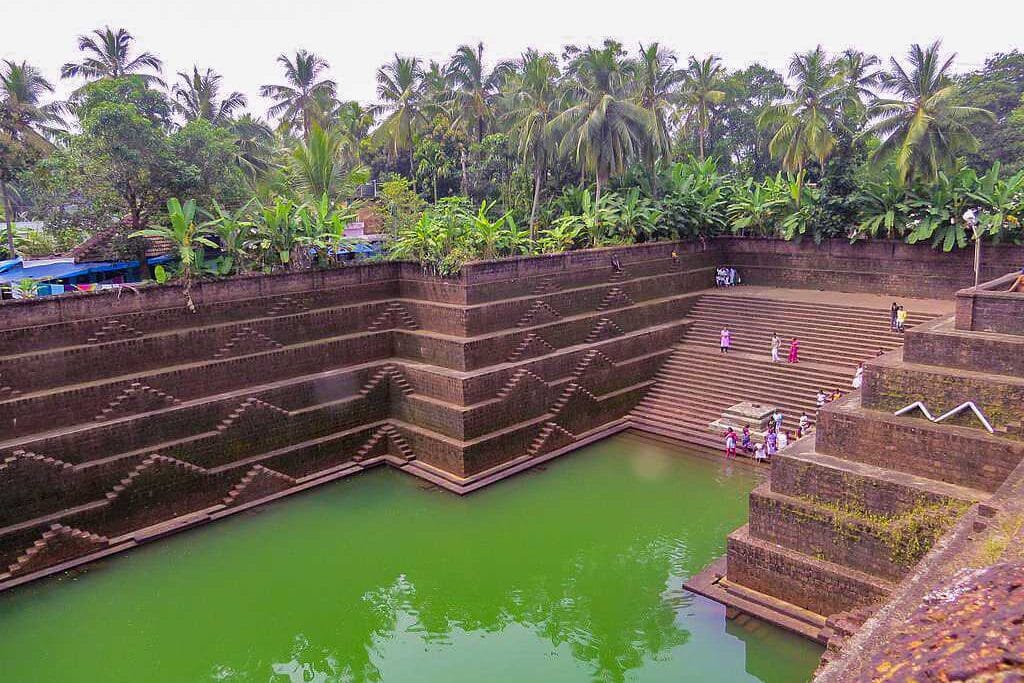 Situated in Peralassery, around 15 km from Kannur,  there is a renowned ancient temple devoted to the serpent form of Lord Subramanya (Kartikeya: Son of Lord Shiva). 
It is believed to be a place where Lord Rama and Lakshman halted during their quest to rescue Sita. At this place, Bhagwan Ram felt some invisible energy of Lord Subramaniam. In order to preserve this place and that divine energy, Lord Rama established the idol of the serpent form of Lord Subramanyam. Here you will get to see many idols of King Cobra made of stone and copper.
A tremendous pond in the form of a stepwell is set just outside the entrance of the Peralassery Temple. It is famous all over the world for its beautiful structure and grand architecture. Peralassery temple pond is the largest stepwell in Kerala.  There are numerous steps of laterite stones leading to the pond, arranged in a geometrical star-shaped design. It resembles very similar to the Baori/stepwells in Rajasthan and Gujrat. There are some fish in the clear water of this pond. You can feel them nudging your feet when you stand on the water steps.
One can reach Peralassery with your own vehicle. You can take a taxi or bus from Kannur. Kannur has the nearest airport and railway station from Peralassery.
---
8.
Panna Meena ka Kund
Panna Meena Ka Kund is a peaceful and pictorial stepwell that is colored in pale yellow. This unique gem of fine architecture is located near the Anokhi museum, in the ancient Amer town of Jaipur. It is just only a short walk away from the famous Amer fort.
This ancient stepwell was constructed in the 16th century for collecting and preserving rainwater for dry months. At those times, it became a social meeting point for local people, where people used to sit on the stairs to relax and gossip.
Panna Meena ka Kund is an eight-tier square stepwell. About 1800 symmetric steps arranged in a zig-zag pattern lead to the bottom of the stepwell. Apart from those steps, a room in the northern direction (which was used for religious activities), arched doorways, and canopy on all four corners, all these aspects make it an architectural wonder.
There is no barricade or fence to stop you from going down the stepwell. There is a fun fact about the place that local people say that one cannot use the same stairs to go down and come up. However, I would suggest you should not try to go down as those steps could be dangerous, and yeah even the water is covered with algae. Locals can do it easily as they are habituated now.
Nowadays this is a popular photoshoot point among teenagers and tourists, especially for professional photographers. 
After bearing the rush crowd of Jaipur, Panna Meena ka Kund is one of the places to visit in Jaipur. The place remains open from sunrise to sunset without any entry fee. The temperature beside the stepwell remains significantly cooler. There you can relax and visualize its beauty when it was fully operational.
---
Nakul Hada is an SEO analyst and a travel blogger. He is a travel buff who especially loves road trips. He believes in research and self-learning which makes his article informative and practical. You can find him on Linkedin or on Instagram @nakulsinghhada.