The Blue City – Jodhpur, founded by Rao Jodha (1459) is a city with one of the most glorious history. Jodhpur is called the Blue City because of the blue houses in the city. Jodhpur is famous for blue houses, the Mehrangarh fort, sweets and snacks. It is also famous for handicrafts. Tourists from all across the world including the locals comes to buy the handicrafts from Jodhpur. 
Jodhpur, the former capital of Marwar is the second-largest city of Rajasthan and justifies all the names it has received like; The Blue city", "Gateway to Thar" and "Sun City". This city is a perfect blend of magnificent past and luxurious present. If you are seeking to learn about the glorious history of Rajasthan or experience the heartwarming hospitality and vibrant culture, Jodhpur is certainly one of the best places to visit in Rajasthan. Jodhpur is surely an excellent destination to take you for a tour back in time.
Here we have listed some of the best places to visit in Jodhpur with ticket prices, opening timings and other interesting facts about the best tourist spots in Jodhpur, so you can include them in your itinerary.
Best time to visit Jodhpur:
October – March (Jodhpur is a very hot region near to Thar desert, hence winter is an ideal time to visit Jodhpur).

By Air: Jodhpur

 is well connected with some important cities with direct flights from the n

earest airport 

Jodhpur Airport (JDH).
By Train: 

Jodhpur

 is well connected with lots of major cities and it would be a good and cheap option to travel.
By Road: The road connectivity of Jodhpur is great and you can reach Jodhpur by bus with some cheap and comfortable options.
Places to Visit in Jodhpur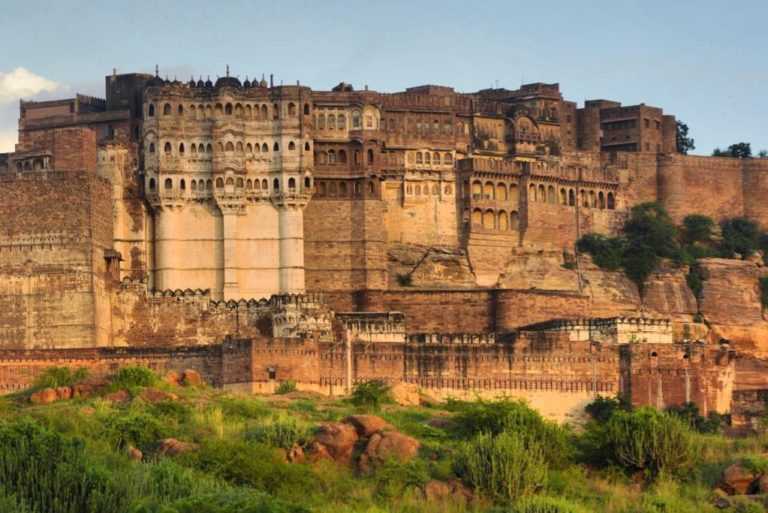 Mehrangarh Fort is the most popular attraction of the Jodhpur city. It is one of the largest forts in the country. The fort stands 400 feet above the city on Bhaucheeria hill. It was built by Rao Jodha in 1459 and the present vast structure of the fort was built over a course of around 500 years.
Since Rao Jodha was a Rathore and worshipped the Sun (Mehran) as their chief deity, the fort was named as Mehrangarh.
This huge fort comprises several beautiful palaces and out of those, the Sheesh Mahal is the most popular one that intricate beautiful patterns on pieces of mirrors. Mehrangarh has 7 gates; Fateh Gate, Victory Gate, Dedh Kamagra Gate, Bhairon Gate, Marti Gate, Gopal Gate and Loha Gate. Also, a well-stocked museum with 6 different galleries.
You should walk to the top of this fort to get a marvelous bird's eye view of Jodhpur. There is an option of adventure activities like zip lining.
Tickets: INR 60/-

Opening timing: 9:00 am – 5:00 pm

Duration: 2-3 hours

Enjoy the magnificent bird's eye view of the city from the top.

Visit one of the most well-stocked museums in Rajasthan.

Feel the Adrenaline rush with ziplining.

The fort has appeared in some very popular Hollywood and Bollywood movies; The Dark Knight Rises, The Lion King, Jodha Akbar and many more…
Jaswant Thada, also known as "taj mahal of Marwar" is a magnificent assemblage of cenotaphs standing next to the Mehrangarh Fort. The Royal Cenotaphs of Jodhpur was built by Maharaja Sardar Singh (in 1899) in honor and memory of his father Maharaja Jaswant Singh II.
The entrance has red steps that lead up to the cenotaphs made out of detailed and beautifully carved marble sheets. This red and white combination makes the appearance very vibrant.
This temple-like structure has several shikhara, domes, a pond, and a striking multi-level garden. The pond here is the traditional cremation ground for royal family of Jodhpur.
We suggest visiting Jaswant Thada on a sunny day (in winter or monsoon) to witness its beauty when this marble structure shines.
Tickets: INR 15/-

Opening timing: 9:00 am – 5:00 pm

Duration: 30 – 60 minutes

Wear appropriate footwear and keep yourself hydrated as you need to trek a little to reach Jaswant Thada.
Umaid Bhavan Palace of Jodhpur is an incredible combination of glorious history and luxurious today, blended in an exotic architecture.
It was built by Maharaja Umaid Singh in 1943 (at a cost of around INR 11000000/-) to provide employment to those people of Jodhpur, who were suffering from drought at that time. The construction was started in 1929 and completed in 1943. During this period, it provided employment to around 3000 people.
This huge palace was made out of different Golden yellow sandstone and marble. The complex comprises a long list of infrastructure including 347 rooms, throne chamber, banquet hall, courtyards, a Darbar Hall, Vaulted banquet hall, Private meeting hall, private dining halls, marble squash courts, ballroom, library, tennis court, billiards room, swimming pool and much more. 
The main architectural attraction of this palace is a majestic Chittar hill perched at the top, this is why this palace is also known as Chittar Palace.
Currently, the palace has been divided into 3 parts.
Residence of the Royal Family of Raja Gaj Singh (Grandson of Maharaja Umaid Singh) where tourists are not allowed. This is among the largest private

residences

in the world.

Umaid Bhawan Palace Hotel, an award-winning 5-star heritage hotel with 70 rooms (operated by the Taj group of hotels).

Umaid Bhawan Palace Museum, displaying some rare artifacts, royal clocks, photographs, and a garden showcasing Maharaja's Vintage cars.
Recently, the palace was in the news because of being the wedding site of Priyanka Chopra and Nick Jonas. Undoubtedly, Umaid Bhawan Palace is a masterful creation and one of the best place to visit in Jodhpur.
Tickets: INR 30/-

Opening timing: 9:00 am – 5:00 pm

Duration: 1 – 2 hours

This is among the largest private residences in the world.

The palace was built over a course of 14 years at a cost of around INR 11000000/-
Mandore garden is a peaceful garden setting including a temple, a museum and the most remarkable feature of the garden that is beautiful cenotaphs.
Mandore garden is located in Mandor, which is around 9 km from jodhpur. Mandore was once the capital of the Pratihara dynasty, the history of Mandore is more ancient than the establishing of Jodhpur.
Cenotaphs (Chhatri or Dewal) – The most impressive feature of the garden, these cenotaphs are built out of red sandstone and can be found spread all across the garden. These Cenotaphs are built over a course of time by various rules but the most popular one is of Maharaja Ajit Singh.

The famous "hall of heroes" – A very popular tourist spot with 16 illustrations of Rajput heroes that have been carved from a single stone.

A government museum – displaying very ancient artifacts and old relics.

The temple of 3 million gods – A temple that houses a shrine belonging to "300 million gods".
Mandore garden is one of the best tourist spot in Jodhpur to see the historical significance of Jodhpur city.
Tickets: Free

Museum ticket: INR 50/-

Opening hours: 8:00 am – 8:00 pm

Museum opening hours: 9:00 am – 6:00 pm (Friday closed)

Duration: 1 – 2 hours

 Wear appropriate footwear and keep yourself hydrated as you have to walk around

The place hosts monkeys (So, beware and do not carry open food items in hand)

Mandore is quite close to a region of the Thar desert, so keep yourself safe from the heat.
Kaylana Lake is a beautiful man-made Lake, situated around 8 km from Jodhpur. It was built by Pratap Singh in 1872. This huge Lake covers an estimated area of 84 square km with a depth ranging between 30-50 ft.
Kaylana Lake is the main source of drinking water for the city of Jodhpur and the neighboring towns. The Lake surrounding is covered with hills, babul trees, and rock structures, creating this as a scenic tourist spot in jodhpur.
This place is popular among bird watchers as several migratory birds can be spotted here like the Siberian Crane. The surrounding area is also home to some animals like wild bears, so it is advisable to avoid visiting the place at night.
There is an option of a boat ride on the Lake to enjoy the blissful environment and witness a beautiful sunset. Kaylana Lake is one of the most calming places to visit in Jodhpur, especially if you are traveling from Jodhpur to Jaisalmer, as the lake lies en route.
Tickets: Free

Opening hours: No timing (it is suggested to avoid visiting at night)

Duration: 30 minutes – 1 hours

Enjoy a boat ride on the Lake to experience the blissful environment and witness a beautiful sunset.

Kaylana Lake is the best place to relax and take a stop if you en route to Jaisalmer.