Bundi is a historical and cultural place that lies in the princely Hadoti region of Rajasthan. Surrounded by Aravalli mountains on three sides, this town is actually an undervalued gem of Rajasthan.
Nobel laureate Rudyard Kipling wrote about the Bundi palace in his famous novel Kim:
"Jaipur Palace may be called the Versailles of India … Jodhpur's House of strife, gray towers on red rock, is the work of giants, but the Palace of Bundi, even in broad daylight, is such a palace as men build for themselves in uneasy dreams – the work of goblins rather than of men."
His words reflect the charismatic and glorious history of Bundi.
In 1624, Kota separated from Bundi and became a separate state. This was the time that a decline in the prosperity of Bundi can be marked. But even after all this, Bundi continues to preserve its historical grandeur. Bundi is a unique blend of nature's beauty and glorious rich history. The scenic beauty of Bundi, filled with lush green fields, enchanting waterfalls, and many picturesque landscapes, is truly relaxing and inspiring.
There are many wonderful and royal places to see in the Bundi. In some places here, you will get to feel that historical and royal vibe. Apart from huge forts, royal palaces, and peaceful temples, there is another special thing in Bundi. There are more than 50 stepwells here, that is why it is also called as the city of stepwells. Like Jodhpur, Bundi also has attention-grabbing bluish hue colored houses that help them keep cool in summer.
Bundi is a place that can give you an experience of time-traveling in the glorious history of Rajputana. So, what are you waiting for? Know about the best places to visit in Bundi and get ready for a journey back in time!!
Best time to visit Bundi:
October- February (Winter is the best time to visit Bundi, however, monsoon is also a good time to visit Bundi when it receives good enough rainfall to reduce the intense heat of this region.
How to reach Bundi:
By Air: The nearest airport to Bundi is Jaipur International Airport which is around 210 km from Bundi. From there you can easily hire a Taxi to Bundi.
By Train: Bundi railway station is properly connected to other cities of the state. However, you can also consider the Kota railway station. From there you can board on a bus or taxi to Bundi.
By Road: Bundi's road network is quite good. Many major cities are easily accessible by road. Bundi is about 35 kilometers from Kota and about 210 kilometers from Jaipur. Buses, private taxis are easily available here.
The Bundi fort or Taragarh Fort is the most striking example of the ancient architecture of Rajputana in Bundi. Taragarh fort was built around the 14th century. It is believed to be one of the oldest forts in Rajasthan.
The fort is located at a steep hill at an elevation of around 1400 feet. Being at such a height, this fort offers you a panoramic and very beautiful view of the city of Bundi.
The fort has three entrances. You will see some tunnels on the way forward, that were used as exits at the time of emergency during wars. However, tourists are not allowed to enter those tunnels. There are also some battle minarets in the fort, among them the most significant is the Bheem Burj. This is where the famous cannon named Garbh Gunjan was once mounted. A visit to the Taragarh Fort is an experience that presents a glorious history and culture of Bundi.
Lots of big websites can confuse you with this picture, as they have mentioned this picture as Taragarh fort in Ajmer, which is absolutely false information.
Ticket: INR 80/-

Opening hours: 08:00 am – 06:00 pm

Duration: 1-2 hrs

You may find some monkeys in the fort, So, beware and do not carry open food items in hand.

Carry water bottle as there might be no water inside the fort.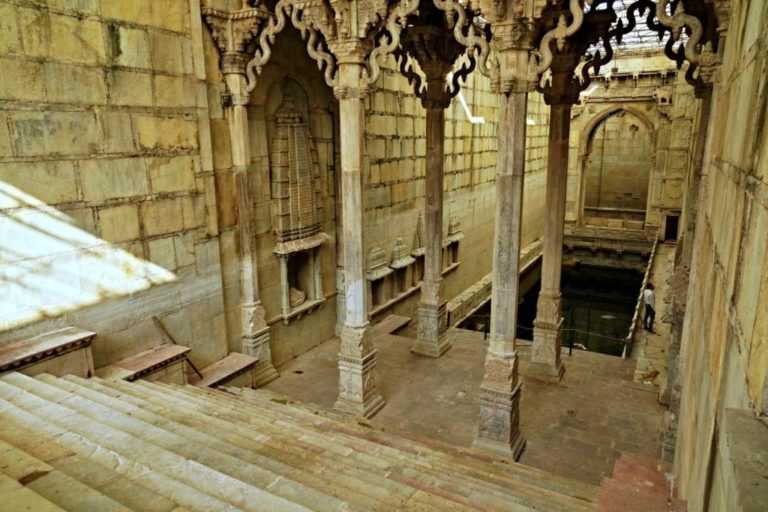 Rani Ji ki baori which means Queen's Stepwell is the most popular and the largest one among the 50 step wells in Bundi. Yes!! Bundi has around 50+ stepwells, that's why it is also called the city of stepwells. This also shows the importance of water storage in Rajasthan at that time.
The stepwell has a couple of floors and is around 150 feet deep. A grand arched entrance welcomes you with four long pillars, decorated with beautiful intricate carved patterns. Statues of elephants with their mahout (an elephant trainer) on the top of those pillars stand facing each other.
Rani Ji's Baori looks more functional with these strong walls that have kept it standing even after such a long time.
The Rani Ji ki Baori is one of the most beautiful stepwells in India and a must be on your checklist of places to visit in Bundi.
Ticket: INR 50/-

Opening hours: 09:00 am – 05:00 pm

Duration: 60 – 90 minutes
3. The 84 pillared cenotaph
The 84 pillared cenotaphs (translated as Chaurasi Khambhon-ki-Chhatri) is actually a setup of beautiful cenotaphs that rests on exactly 84 pillars in a garden in Bundi. This cenotaph is situated in Devapura, just a little off the Kota-Bundi highway.
Chaurasi Khambon ki Chhatri was constructed by Rao Raja Anirudh Singh in honor of his foster brother Deva. During that time, lots of Bundi rulers were raised by their nurses. Hence, the rulers respected them and treated their kids as their brothers and sisters.
This structure has 2 floors, elegantly adorned with some artistic presentations from that time. The upper floor has a main chhatri supported by 16 pillars, and 4 small chhatris with 4-4 pillars each placed on the corners. That makes exactly 32 pillars on the upper floor.
The lower floor has a Shiv Linga surrounded by an excellently beautified rooftop that stands strong with the 52 pillars. These pillars count to be exact 84 (32 on upper and 52 on the lower floor). Thus, the place got its name as (84 pillared cenotaphs) Chaurasi Khambhon ki Chhatri. This place looks more beautiful at night with the lights.
Ticket: NA

Opening hours: 09:00 am – 06:00 pm

Duration: 60 minutes