We have all seen the fascinating snowfall in movies and romantic songs, but not everyone gets a chance in real life. Especially in a country with a hot and varied climate like India. In India, snowfall is often seen only in wallpaper and calendars.
Now just imagine this for a moment, you are passing through a beautiful valley, and that place is covered with soft snow from all sides. All the trees around are covered with snow, shining with the reflection of soothing sunlight. You are taking hot tea sips while sitting around those beautiful litigants and can feel soft and tiny snowflakes cuddling your face.
Sounds interesting, right?
If you want to experience this fantasy in real life then keep on reading to know about the most beautiful snowfall destination in India to visit this winter.
Gulmarg

Gulmarg is one of the most beautiful snowfall destinations in India. This place is blessed with the unique beauty of its kind. Unlike a simple snowfall destination, Gulmarg has a lot to offer you other than snowballs and snowmen. This beautiful snowfall destination lies in the Pir Panjal Range of the western Himalayas in Jammu & Kashmir. With great slopes and India's highest cable car project, (Gulmarg Gondola) Gulmarg is the best destination for skiing in India. Both beginners and pros are allowed for skiing. Great skiing tracks, snowboarding, and Gandola rides make this a great place for snow sports.
Along with adventurous aspects, Gulmarg is also a very popular honeymoon destination in India. Here you will observe that there is not much crowd as compared to the other snowfall destinations in India. With pleasing valleys, beautiful gardens, and divine peace, it will bring you much closer to nature and make you feel like staying here forever!!
Best time to visit Gulmarg: January-February
---
Manali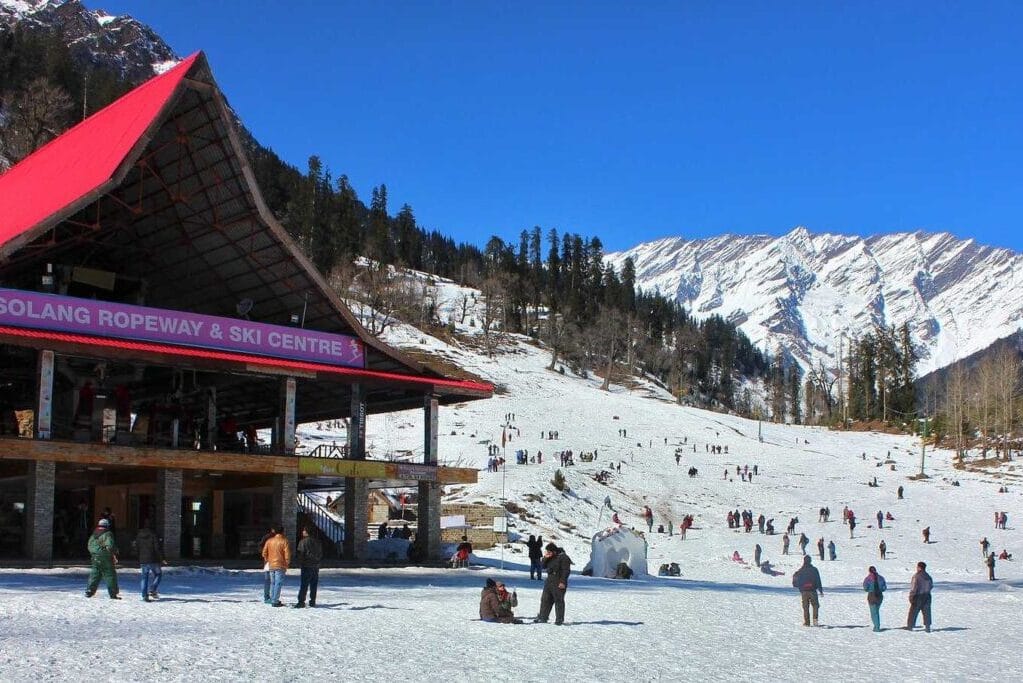 Manali is one such destination that automatically appears to mind when it comes to snowfall and hill-stations in India.  Situated in Himachal Pradesh, Manali lies between the snowy ranges of Pir-Panjal and Dhauladhar.
Enriched with majestic mountains, distinctive culture, stunning scenery, and delicious food, this a perfect snowfall destination in India. With breathtaking landscapes in summer and magical snowfall in winter, Manali attracts visitors throughout the year. 
Due to high elevation, Manali poses a pretty cool temperature. During the winter, one can often see snowfall. If you want to enjoy snowfall, then you should book your stay in the old Manali. From there, you can enjoy the scenic views of snow-capped mountains right from your window.
Best time to visit Manali: December-January
---
Auli

If you want to enjoy snowfall with the panoramic views of beautiful snowy mountains as well as an adventuresome experience, then Auli is the best place for you. Auli is a popular tourist destination, located in the Chamoli district in the Himalayan ranges of Uttarakhand. You can enjoy the beauty of Auli at any time of the year, especially in winter, this natural wonder seems like a fantasy. 
Auli is famous for skiing, where you can adventurous experience with some of India's highest peaks like Nanda Devi and Nar-Parvat. There are lots of ski resorts in Auli, from where you can enjoy some magnificent views. Apart from skiing, there are lots of aspects that make Auli a perfect snowfall destination in India. Snowy peaks, oak trees, and wooden huts all together make Auli look like some European destination.
In winters, you can expect the temperature to go down around -6 degrees Celsius.
Best time to visit Auli: November-February
---
Nakul Hada is an SEO analyst and a travel blogger. He is a travel buff who especially loves road trips. He believes in research and self-learning which makes his article informative and practical. You can find him on Linkedin or on Instagram @nakulsinghhada.